4 Night Western Caribbean Cruise from Miami
Cruise Number:
CN-632003
17 are tracking this cruise.
Ship: Carnival Victory
Cruise Line: Carnival Cruises
Sail Date: Monday, Feb 6, 2017 from Miami, United States
Return Date: Friday, Feb 10, 2017 to Miami, United States
Inside
Oceanview
Balcony
Suite

from

$279

pp

from

$324

pp

from

$429

pp

Please
Call
More Rates Available.
Click the "
View All Rates
" button to see Unadvertised, Private
Sale Prices plus discount rates for Seniors, Military, Residents, and Past Guests.
Day by Day Summary and Map
Itinerary Map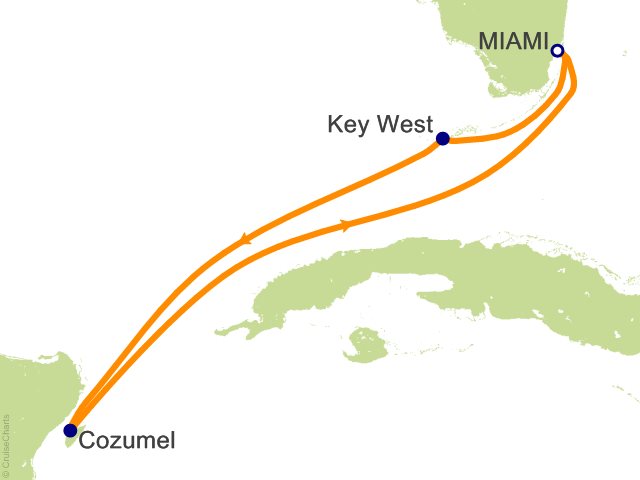 Cruise Segment of Itinerary
Monday - Feb 6, 2017
Miami, United States
Depart: 4:00 pm
Tuesday - Feb 7, 2017
Key West, United States
Arrive: 7:30 am
Depart: 1:30 pm
Wednesday - Feb 8, 2017
Cozumel, Mexico
Arrive: 12:00 pm
Depart: 10:00 pm
Thursday - Feb 9, 2017
Friday - Feb 10, 2017
Miami, United States
Arrive: 8:00 am
How To Book This Cruise
Get A Quote

Just complete this short quote form and one of our agents will get you a quote right away.

Call 1-800-427-8473

Expert travel agents are ready to assist you. Please reference Cruise Number CN-632003.

Book Online

Fast, Safe, Secure and we accept all major credit cards. Click here to book online.